Nanoparticles as a solution against antibiotic resistance?
Around one in 3,300 children in Germany is born with Mucoviscidosis. A characteristic of this illness is that one channel albumen on the cell surface is disturbed by mutations. Thus, the amount of water of different secretions in the body is reduced which creates a tough mucus. As a consequence, inner organs malfunction. Moreover, the mucus blocks the airways. Thus, the self regulatory function of the lung is disturbed, the mucus is colonized by bacteria and chronic infections follow. The lung is so significantly damaged that patients often die or need to have a lung transplant. The average life expectancy of a patient today is around 40 years. This is due to medical progress. Permanent treatment with inhaled antibiotics play a considerable part in this. The treatment can't avoid the colonization by bacteria completely but it can keep it in check for a longer period of time. However, the bacteria defend themselves with a development of resistance and with the growth of so-called biofilms underneath the layer of mucus, which mostly block off the bacteria in the lower rows like a protective shield.
A complex way to the Pathogens
Scientists of the Friedrich Schiller University Jena, Germany succeeded in developing a much more efficient method to treat the airway infections which are often lethal. Crucial are nanoparticles that transport the antibiotics more efficiently to their destination. "Typically, the drugs are applied by inhalation in the body. Then they make a complicated way through the body to the pathogens and many of them don't make it to their destination," states Prof. Dr Dagmar Fischer of the chair for Pharmaceutical Technology at the University of Jena, who supervised the project together with her colleague Prof. Dr Mathias Pletz, a pulmonologist and infectious diseases physician, from the Center for Infectious Diseases and Infection Control at the Jena University Hospital. The project was supported by the Deutsche Forschungsgemeinschaft. First of all, the active particles need to have a certain size to be able to reach the deeper airways and not to bounce off somewhere else before. Ultimately, they have to penetrate the thick layer of mucus on the airways as well as the lower layers of the bacteria biofilm.
Nanoparticles travel more efficiently
To overcome the strong defense, the researchers encapsulated the active agents, like the antibiotic Tobramycin, in a polyester polymer. Thus, they created a nanoparticle which they then tested in the laboratory where they beforehand had simulated the present lung situation, in a static as well as in a dynamic state, i. e. with simulated flow movements. Therefore Pletz's research group had developed new test systems, which are able to mimick the situation of the chronically infected CF-lung. The scientists discovered that their nanoparticle travels more easily through the sponge-like net of the mucus layer and is finally able to kill off the pathogens without any problems. Moreover, an additionally applied coating of polyethylenglycol makes it nearly invisible for the immune system. "All materials of a nanocarrier are biocompatible, biodegradable, nontoxic and therefore not dangerous for humans," the researcher informs.
However, the Jena scientists don't know yet exactly why their nanoparticle fights the bacteria so much more efficiently. But they want to finally get clarification in the year ahead. "We have two assumptions: Either the much more efficient transport method advances significantly larger amounts of active ingredients to the center of infection, or the nanoparticle circumvents a defense mechanism, which the bacterium has developed against the antibiotic," the Jena Pharmacist Fischer explains. "This would mean, that we succeeded in giving back its impact to an antibiotic, which had already lost it through a development of resistance of the bacteria."
"More specifically, we assume that bacteria from the lower layers of the biofilm transform into dormant persisters and hardly absorb any substances from outside. In this stadium, they are tolerant to most antibiotics, which only kill off self-dividing bacteria. The nanoparticles transport the antibiotics more or less against their will to the inner part of the cell, where they can unfold their impact," Mathias Pletz adds.
Additionally, the Jena research team had to prepare the nanoparticles for the inhalation. Because at 200 nanometers the particle is too small to get into the deeper airways. "The breathing system filters out particles that are too big as well as those which are too small," Dagmar Fischer explains. "So, we are left with a preferred window of between one and five micrometers." The Jena researchers also have promising ideas for resolving this problem.
Coating of Nanoparticles enhances the impact of Antibiotics against Biofilms
The scientists from Jena are at this point already convinced to have found a very promising method to fight respiratory infections of patients with mucoviscidosis. Thus they may be able to contribute to a higher life expectancy of those affected. "We were able to show that the nanoparticle coating improves the impact of the antibiotics against biofilm by a factor of 1,000," the pulmonologist and infectious diseases physician is happy to say.
The cambodian cure for resistant scabies mites
A member shares his story in how he was cured from resistant scabies mites in Cambodia. Where ivermectin and permethrin failed a local monk in a small town in Cambodia combated it with natural herbs and ancient remedies
www.humanparasites.org
Facebook group: Human Parasites Support Network
New Lyme disease tests could offer quicker, more accurate detection
New tests to detect early Lyme disease — which is increasing beyond the summer months -could replace existing tests that often do not clearly identify the infection before health problems occur.
In an analysis published on December 7 in Clinical Infectious Diseases, scientists from Rutgers University, Harvard University, Yale University, National Institute of Allergy and Infectious Diseases of the NIH and other academic centers, industry and public health agencies say new diagnostic methods offer a better chance for more accurate detection of the infection from the Lyme bacteria.
"New tests are at hand that offer more accurate, less ambiguous test results that can yield actionable results in a timely fashion," said Steven Schutzer, a physician-scientist at Rutgers New Jersey Medical School and senior author. "Improved tests will allow for earlier diagnosis which should improve patient outcomes."
Lyme disease is the most common tick-borne infection in North America and Europe. There are currently over 300,000 cases of Lyme disease annually in the United States alone and the disease is increasing and spreading into new regions. Lyme disease frequently, but not always, presents with a bull's-eye rash. When the rash is absent, a laboratory test is needed.
The only FDA approved Lyme disease tests, based on technology developed more than two decades ago, rely on detecting antibodies that the body's immune system makes in response to the disease. These antibody-based tests are the most commonly used tests for Lyme disease and are the current standard.
One problem, however, is that many people produce similar — called "cross-reactive" — antibodies in response to other bacteria not associated with Lyme disease, which causes confusing results and makes test accuracy more difficult.
"New tests are more exact and are not as susceptible to the same false-positive or false-negative results associated with current tests," said Schutzer.
Schutzer and his colleagues say more accurate testing would help doctors decide when to prescribe the antibiotics used to clear the infection and help avoid severe long-term health problems. Antibody tests, can take three weeks or more for the antibody levels to reach a point where the tests can pick up a positive result.
Those involved in the paper joined forces after meeting at Cold Spring Harbor Laboratory's Banbury Center, a nonprofit research institution in New York. The meeting organized and chaired by Schutzer and John A. Branda, assistant professor of pathology at Harvard Medical School, focused on current Lyme disease tests and new scientific advances made in increasing the accuracy of the diagnosis.
"This meeting and paper resulting from it are particularly significant," said Jan Witkowski, professor in the Watson School of Biological Sciences at Cold Spring Harbor Laboratory who along with Nobel Laureate James Watson asked Schutzer to lead several symposia. "The participants noted that there are greatly improved diagnostic tests for Lyme disease that can be implemented now, and that the way is open to the development of further tests."
---
Journal Reference:
John A Branda, Barbara A Body, Jeff Boyle, Bernard M Branson, Raymond J Dattwyler, Erol Fikrig, Noel J Gerald, Maria Gomes-Solecki, Martin Kintrup, Michel Ledizet, Andrew E Levin, Michael Lewinski, Lance A Liotta, Adriana Marques, Paul S Mead, Emmanuel F Mongodin, Segaran Pillai, Prasad Rao, William H Robinson, Kristian M Roth, Martin E Schriefer, Thomas Slezak, Jessica Snyder, Allen C Steere, Jan Witkowski, Susan J Wong, Steven E Schutzer. Advances in Serodiagnostic Testing for Lyme Disease Are at Hand. Clinical Infectious Diseases, 2017; DOI: 10.1093/cid/cix943
Possible new way to treat parasitic infections discovered
A chemical that suppresses the lethal form of a parasitic infection caused by roundworms that affects up to 100 million people and usually causes only mild symptoms has now been identified by researchers.
UT Southwestern Medical Center researchers have identified a chemical that suppresses the lethal form of a parasitic infection caused by roundworms that affects up to 100 million people and usually causes only mild symptoms.
"The approach we used could be applied generally to any nematode parasite, not just this one type," said Dr. David Mangelsdorf, Chair of Pharmacology, an Investigator in the Howard Hughes Medical Institute (HHMI), and one of three corresponding authors of the study published in the Proceedings of the National Academy of Sciences. The study's other corresponding authors are at two universities in Philadelphia.
"The plan is to develop better compounds that mimic the Δ7-dafachronic acid used in this study and eventually to treat the host to stop parasitic infection," he added.
The Centers for Disease Control and Prevention (CDC) reports that the soil-dwelling Strongyloides stercoralis nematode, or roundworm, is the primary strongyloides species that infects humans. Experts estimate that between 30 million and 100 million people are infected worldwide, and most of them are unaware of it because their symptoms are so mild. The parasite can persist for decades in the body because of the nematode's unique ability to reinfect the host, repeatedly going through the early stages of its life cycle. The nematode that causes the original infection exists in dirt on all continents except Antarctica, and it is most common in warmer regions, particularly remote rural areas in the tropics and subtropics where walking barefoot combined with poor sanitation leads to infection.
However, in people with compromised immune systems — such as those using long-term steroids for asthma, joint pain, or after an organ transplant — the mild form of the illness can progress to the potentially lethal form, a situation called hyperinfection. Studies indicate that mortality from untreated hyperinfection can be as high as 87 percent.
The World Health Organization reports that although the parasitic illness has almost disappeared in countries where sanitation has improved, children remain especially vulnerable in endemic regions due to their elevated contact with dirt. Further, the drug of choice, ivermectin, is unavailable in some affected countries.
"Ivermectin is used to treat the disease but is less effective in the lethal form of the infection," said Dr. Mangelsdorf, a Professor of Pharmacology and Biochemistry. "We do not know exactly how the glucocorticoid [steroid] causes hyperinfection, but once it does, ivermectin is much less effective, prompting the search for new drugs. The new drug we used in our mouse model appears to be very effective," he said.
To study the still unknown pathogenesis of the disease, the researchers developed a mouse model susceptible to the full range of infection by the human parasite. Because mice with intact immune systems are resistant to S. stercoralis infection, the researchers began with an immunocompromised strain of mice, and then exposed some to a synthetic steroid called methylprednisolone (MPA) that is commonly used to treat asthma in humans.
The mice were then exposed to the parasitic worms. Compared with untreated mice, those that received the steroid showed a tenfold increase in the number of parasitic female worms and a 50 percent increase in mortality, said Dr. Mangelsdorf, who holds both the Alfred G. Gilman Distinguished Chair in Pharmacology and the Raymond and Ellen Willie Distinguished Chair in Molecular Neuropharmacology in Honor of Harold B. Crasilneck, Ph.D.
In addition, third-stage larvae — the life cycle stage in which the worms can initiate hyperinfection — were found in higher numbers in the steroid-treated versus untreated mice, he added.
"Strikingly, treatment with a steroid hormone called Δ7-dafachronic acid, a chemical that binds to a parasite nuclear receptor called Ss-DAF-12, significantly reduced the worm burden in MPA-treated mice," Dr. Mangelsdorf said. The Ss-DAF-12 receptor corresponds to a similar receptor in the long-studied C. elegans worm.
Dr. Mangelsdorf and colleagues previously showed (PNAS, 2009) that the DAF-12 receptor pathway is found in many parasitic species. They also showed that activating the receptor with Δ7-dafachronic acid could override the parasite's development and prevent S. stercoralis from becoming infectious.
"Overall, this latest study provides a useful mouse model for S. stercoralis autoinfection and opens the possibility of new chemotherapy for hyperinfection by targeting the parasite's own steroid hormone mechanism," Dr. Mangelsdorf said.
---
Journal Reference:
John B. Patton, Sandra Bonne-Année, Jessica Deckman, Jessica A. Hess, April Torigian, Thomas J. Nolan, Zhu Wang, Steven A. Kliewer, Amy C. Durham, James J. Lee, Mark L. Eberhard, David J. Mangelsdorf, James B. Lok, David Abraham. Methylprednisolone acetate induces, and Δ7-dafachronic acid suppresses,Strongyloides stercoralishyperinfection in NSG mice. Proceedings of the National Academy of Sciences, 2018; 201712235 DOI: 10.1073/pnas.1712235114

A combination regimen comprised of #azithromycin & #ivermectin is associated w/ similar reductions in #scabies & #impetigo compared w/ #ivermectin monotherapy in communities w/ high rates of these infections contagionlive.com/link/1284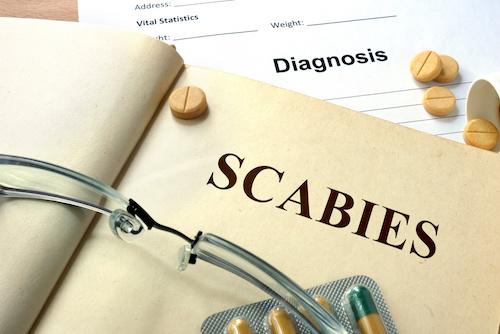 Treatment with #azithromycin plus #ivermectin versus ivermectin alone provides equal protection against #scabies & #impetigo in at-risk communities, new @LSHTM study finds contagionlive.com/link/1284