Research finds that microscopic worms known as nematodes use venomous proteins to kill the insects they infect
Credit: Adler Dillman
Nematodes secrete a deadly cocktail of proteins to kill many insects that damage crops. The finding overturns a long-held belief that it is exclusively bacteria, working in conjunction with nematodes, that kill the insects.
Nematodes are microscopic worms that fall into an often ignored corner of the animal kingdom. While many of them are parasitic, meaning they live inside other organisms, they also help control diseases in humans and kill insects that damage agricultural crops.
It's those beneficial qualities of nematodes that draw the focus of Adler Dillman, an assistant professor at the University of California, Riverside.
In a just-published paper in the journal PLOS Pathogens, Dillman and several collaborators found that nematodes secrete a deadly cocktail of proteins to kill many insects that damage crops. The finding overturns a long-held belief that it is exclusively bacteria, working in conjunction with nematodes, that kill the insects.
"It's all really science fiction-like," Dillman said. "These microscopic nematodes crawl into the host, poop out toxic bacteria and then spit out the venom and turn the host into an insect milkshake."
Nematodes have adapted to live in nearly every ecosystem, including oceans, lakes, soils, polar and tropic zones and at all elevations. They are round but don't have segments like earthworms. They are generally 0.1- to 2.5-millimeters long and are thought to represent 80 percent of animals on Earth.
The research by Dillman and his collaborators focused on Steinernema carpocapsae, a well-studied nematode that is known to kill more than 250 insect pests that attack plants such as peaches, tomatoes, corn, sweet potatoes, oranges, and pine trees. S. carpocapsae can be bought at online gardening stores and are marketed as an organic gardening solution. One web site sells 10 million of them for $37.98.
S. carpocapsae belongs to a group of insect-parasitic nematodes known as entomopathogenic nematodes. These differ from other insect parasites because they kill their hosts quickly, within a day or two, and associate with bacteria to facilitate their parasitic lifestyle.
These nematodes are born, stop development and only restart development once they infect a host insect. Little is known about the early stages of parasitism and how these parasites initiate the parasitic phase of their life cycle and reinitiate development. The research by Dillman and his collaborators helps to unravel that mystery.
The PLOS Pathogens paper outlines a new method the researchers developed to work with the nematodes when they are outside the insect host they parasitize, a common challenge when researching parasites.
The researchers were able to collect the venomous proteins from the nematodes after exposure to insect tissue in flasks in the lab. They found the protein mixture was highly toxic to multiple species of insects including adult fruit flies (Drosophila melanogaster), which are commonly used in scientific experiments.
In addition, they used RNA sequencing technology to compare the expression of genes in nematodes from inside the insect host and those exposed to insect tissue in flasks. They found the gene expression profiles were similar, demonstrating the validity of the model they developed to work with nematodes outside an insect host.
Finally, they then identified 472 proteins presumably involved in parasitism. These proteins will serve as a foundation for future studies that have agricultural and medical applications.
On the agriculture side, researchers are hopeful that they will find new insecticidal compounds that can be used to control insect pests around the world.
On the human medicine side, nematodes have recently been shown to help control auto-immune diseases, such as Celiac disease, irritable bowel syndrome, and Crohn's disease. Future research by Dillman and his collaborators could lead to better methods involving nematode molecules to combat those diseases.
The findings are especially relevant for closely related human parasites such as threadworm (Strongyloides stercoralis), which infects an estimated 100 million people globally.
The PLOS Pathogens paper is called "Activated entomopathogenic nematode infective juveniles release lethal venom proteins."
---
Journal Reference:
Dihong Lu, Marissa Macchietto, Dennis Chang, Mirayana M. Barros, James Baldwin, Ali Mortazavi, Adler R. Dillman. Activated entomopathogenic nematode infective juveniles release lethal venom proteins. PLOS Pathogens, 2018; 13 (4): e1006302 DOI: 10.1371/journal.ppat.1006302
The cambodian cure for resistant scabies mites
A member shares his story in how he was cured from resistant scabies mites in Cambodia. Where ivermectin and permethrin failed a local monk in a small town in Cambodia combated it with natural herbs and ancient remedies
www.humanparasites.org
Facebook group: Human Parasites Support Network
New Lyme disease tests could offer quicker, more accurate detection
New tests to detect early Lyme disease — which is increasing beyond the summer months -could replace existing tests that often do not clearly identify the infection before health problems occur.
In an analysis published on December 7 in Clinical Infectious Diseases, scientists from Rutgers University, Harvard University, Yale University, National Institute of Allergy and Infectious Diseases of the NIH and other academic centers, industry and public health agencies say new diagnostic methods offer a better chance for more accurate detection of the infection from the Lyme bacteria.
"New tests are at hand that offer more accurate, less ambiguous test results that can yield actionable results in a timely fashion," said Steven Schutzer, a physician-scientist at Rutgers New Jersey Medical School and senior author. "Improved tests will allow for earlier diagnosis which should improve patient outcomes."
Lyme disease is the most common tick-borne infection in North America and Europe. There are currently over 300,000 cases of Lyme disease annually in the United States alone and the disease is increasing and spreading into new regions. Lyme disease frequently, but not always, presents with a bull's-eye rash. When the rash is absent, a laboratory test is needed.
The only FDA approved Lyme disease tests, based on technology developed more than two decades ago, rely on detecting antibodies that the body's immune system makes in response to the disease. These antibody-based tests are the most commonly used tests for Lyme disease and are the current standard.
One problem, however, is that many people produce similar — called "cross-reactive" — antibodies in response to other bacteria not associated with Lyme disease, which causes confusing results and makes test accuracy more difficult.
"New tests are more exact and are not as susceptible to the same false-positive or false-negative results associated with current tests," said Schutzer.
Schutzer and his colleagues say more accurate testing would help doctors decide when to prescribe the antibiotics used to clear the infection and help avoid severe long-term health problems. Antibody tests, can take three weeks or more for the antibody levels to reach a point where the tests can pick up a positive result.
Those involved in the paper joined forces after meeting at Cold Spring Harbor Laboratory's Banbury Center, a nonprofit research institution in New York. The meeting organized and chaired by Schutzer and John A. Branda, assistant professor of pathology at Harvard Medical School, focused on current Lyme disease tests and new scientific advances made in increasing the accuracy of the diagnosis.
"This meeting and paper resulting from it are particularly significant," said Jan Witkowski, professor in the Watson School of Biological Sciences at Cold Spring Harbor Laboratory who along with Nobel Laureate James Watson asked Schutzer to lead several symposia. "The participants noted that there are greatly improved diagnostic tests for Lyme disease that can be implemented now, and that the way is open to the development of further tests."
---
Journal Reference:
John A Branda, Barbara A Body, Jeff Boyle, Bernard M Branson, Raymond J Dattwyler, Erol Fikrig, Noel J Gerald, Maria Gomes-Solecki, Martin Kintrup, Michel Ledizet, Andrew E Levin, Michael Lewinski, Lance A Liotta, Adriana Marques, Paul S Mead, Emmanuel F Mongodin, Segaran Pillai, Prasad Rao, William H Robinson, Kristian M Roth, Martin E Schriefer, Thomas Slezak, Jessica Snyder, Allen C Steere, Jan Witkowski, Susan J Wong, Steven E Schutzer. Advances in Serodiagnostic Testing for Lyme Disease Are at Hand. Clinical Infectious Diseases, 2017; DOI: 10.1093/cid/cix943
Possible new way to treat parasitic infections discovered
A chemical that suppresses the lethal form of a parasitic infection caused by roundworms that affects up to 100 million people and usually causes only mild symptoms has now been identified by researchers.
UT Southwestern Medical Center researchers have identified a chemical that suppresses the lethal form of a parasitic infection caused by roundworms that affects up to 100 million people and usually causes only mild symptoms.
"The approach we used could be applied generally to any nematode parasite, not just this one type," said Dr. David Mangelsdorf, Chair of Pharmacology, an Investigator in the Howard Hughes Medical Institute (HHMI), and one of three corresponding authors of the study published in the Proceedings of the National Academy of Sciences. The study's other corresponding authors are at two universities in Philadelphia.
"The plan is to develop better compounds that mimic the Δ7-dafachronic acid used in this study and eventually to treat the host to stop parasitic infection," he added.
The Centers for Disease Control and Prevention (CDC) reports that the soil-dwelling Strongyloides stercoralis nematode, or roundworm, is the primary strongyloides species that infects humans. Experts estimate that between 30 million and 100 million people are infected worldwide, and most of them are unaware of it because their symptoms are so mild. The parasite can persist for decades in the body because of the nematode's unique ability to reinfect the host, repeatedly going through the early stages of its life cycle. The nematode that causes the original infection exists in dirt on all continents except Antarctica, and it is most common in warmer regions, particularly remote rural areas in the tropics and subtropics where walking barefoot combined with poor sanitation leads to infection.
However, in people with compromised immune systems — such as those using long-term steroids for asthma, joint pain, or after an organ transplant — the mild form of the illness can progress to the potentially lethal form, a situation called hyperinfection. Studies indicate that mortality from untreated hyperinfection can be as high as 87 percent.
The World Health Organization reports that although the parasitic illness has almost disappeared in countries where sanitation has improved, children remain especially vulnerable in endemic regions due to their elevated contact with dirt. Further, the drug of choice, ivermectin, is unavailable in some affected countries.
"Ivermectin is used to treat the disease but is less effective in the lethal form of the infection," said Dr. Mangelsdorf, a Professor of Pharmacology and Biochemistry. "We do not know exactly how the glucocorticoid [steroid] causes hyperinfection, but once it does, ivermectin is much less effective, prompting the search for new drugs. The new drug we used in our mouse model appears to be very effective," he said.
To study the still unknown pathogenesis of the disease, the researchers developed a mouse model susceptible to the full range of infection by the human parasite. Because mice with intact immune systems are resistant to S. stercoralis infection, the researchers began with an immunocompromised strain of mice, and then exposed some to a synthetic steroid called methylprednisolone (MPA) that is commonly used to treat asthma in humans.
The mice were then exposed to the parasitic worms. Compared with untreated mice, those that received the steroid showed a tenfold increase in the number of parasitic female worms and a 50 percent increase in mortality, said Dr. Mangelsdorf, who holds both the Alfred G. Gilman Distinguished Chair in Pharmacology and the Raymond and Ellen Willie Distinguished Chair in Molecular Neuropharmacology in Honor of Harold B. Crasilneck, Ph.D.
In addition, third-stage larvae — the life cycle stage in which the worms can initiate hyperinfection — were found in higher numbers in the steroid-treated versus untreated mice, he added.
"Strikingly, treatment with a steroid hormone called Δ7-dafachronic acid, a chemical that binds to a parasite nuclear receptor called Ss-DAF-12, significantly reduced the worm burden in MPA-treated mice," Dr. Mangelsdorf said. The Ss-DAF-12 receptor corresponds to a similar receptor in the long-studied C. elegans worm.
Dr. Mangelsdorf and colleagues previously showed (PNAS, 2009) that the DAF-12 receptor pathway is found in many parasitic species. They also showed that activating the receptor with Δ7-dafachronic acid could override the parasite's development and prevent S. stercoralis from becoming infectious.
"Overall, this latest study provides a useful mouse model for S. stercoralis autoinfection and opens the possibility of new chemotherapy for hyperinfection by targeting the parasite's own steroid hormone mechanism," Dr. Mangelsdorf said.
---
Journal Reference:
John B. Patton, Sandra Bonne-Année, Jessica Deckman, Jessica A. Hess, April Torigian, Thomas J. Nolan, Zhu Wang, Steven A. Kliewer, Amy C. Durham, James J. Lee, Mark L. Eberhard, David J. Mangelsdorf, James B. Lok, David Abraham. Methylprednisolone acetate induces, and Δ7-dafachronic acid suppresses,Strongyloides stercoralishyperinfection in NSG mice. Proceedings of the National Academy of Sciences, 2018; 201712235 DOI: 10.1073/pnas.1712235114

A combination regimen comprised of #azithromycin & #ivermectin is associated w/ similar reductions in #scabies & #impetigo compared w/ #ivermectin monotherapy in communities w/ high rates of these infections contagionlive.com/link/1284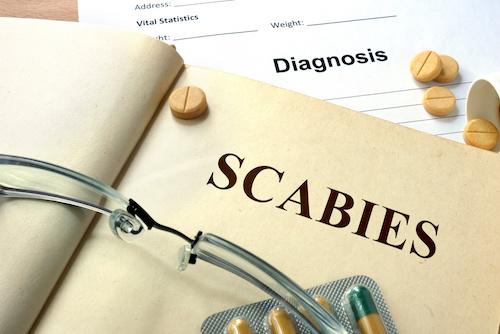 Treatment with #azithromycin plus #ivermectin versus ivermectin alone provides equal protection against #scabies & #impetigo in at-risk communities, new @LSHTM study finds contagionlive.com/link/1284